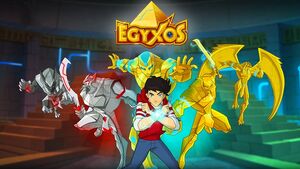 Egyxos is an Italian animated series produced by De Agostini Editore, Musicartoon, Planeta Junior and DeA Kids.
Broadcast
Egyxos premiered in Italy On Super!
And Broadcasting International such as Cartoon Network (United States), YTV (Canada), CBBC (United Kingdom), Disney XD (France), Clan TVE (Spain), Panda Biggs (Portugal), Super RTL (Germany), Megamax (Hungary, Romania, Czech Republic and Slovakia), Teletoon+ (Poland), Disney XD (South Asia), MBC3 (Arabia), Artuz Hayladem (Israel), Disney XD and SVT (Sweden), Disney XD and NRK (Norway) and Disney XD and DRTV (Denmark).
Episodes
Cast
Leo - Shawn Platzker
Kefer - Colin Ryan
Exaton - J. David Brimmer
Horus - Jake Paque
Ramses - Erwin Thomas
Hyksos - Jason Griffith
Apis - Dan Green
Kha - Marc Thompson
Neith - Rachel Wise
Seth - Dave Wills
Bes - Michael Pollock
Iside - Sharon Maguire
Osiride - Christopher McLaughlin
Maat - Terri Klausner
Anubi - Matthew Ban
Thoth - Bill Bob Thompson
Sekhmet - Carrie Watt
Karnak - Jim O'Brien
Hatanor - Jake Paque
Sobek - Tom Wayland
Shu - Marc Thompson
Leo's Mom - Summer Crockett Moore
Leo's Father - Dan Green
Toby - Tommy Werner
Juliet - Shannon Werner
Colin - Harris Doran
Bernie - Marc Thompson
Dale - Tom Wayland
Kay - Alyson Rosenfield
Astrid - Kylee Claxton
Coach - Dave Wills
DVD
Egyxos was distributed also on DVD:
Koch Media italian DVD realeses and home Video distributiors such as Big Picture in Spain, Sony Pictures (France), FMKids in Germany, BBC Video in the UK, Warner Home Video in the United States, Media Service Zadawa in Poland and Kids Entertainment in Scandavia.
Latest activity
Photos and videos are a great way to add visuals to your wiki. Find videos about your topic by exploring Wikia's Video Library.