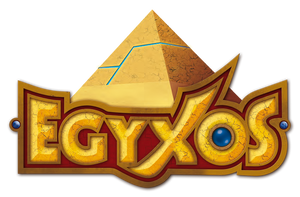 The Egyxos series is predominately a children's show, geared towards 8-12 year olds. The series was directed by Italian cartoonist Francesco Artibani.
Episode List
Edit
English Cast
Edit
Italian Cast
Edit
Leo Walker - Alessio De Filippis
Kefer - Andrea Mete
Exaton - Fabrizio Pucci
Horus - Stefano Billi
Ramses - Sergio Lucchetti
Hyksos - Marco Vivio
Apis, Shu Stefano Mondini
Kha - Andrea Lavagnino
Neith - Ilaria Giorgino
Seth - Roberto Certomà
Bes - Luigi Ferraro
Iside - Roberta Greganti
Oisiride - Stefano Thermes
Maat - Barbara Pitotti
Anubi - Edoardo Nordio
Thoth - Riccardo Polizzy Carbonelli
Sekhmet - Daniela Calò
Karnak - Pierluigi Astore
Hatanor - Mario Bombardieri
Sobek - Mimmo Strati
Leo's Mother - Maura Cenciarelli
Leo's Father - Guido Di Naccio
Toby - Riccardo Suarez
Juliet - Arianna Vignoli
Colin - Gianluca Crisafi
Bernie - Emanuele Ruzza
Dale - Federico Campaiola
Astrid - Eleonora Reti
Coach - Alberto Bognanni
Leo, Kefer and Hours hold the highest number of appearances than any other characters among the heroes.
Exaton and Anubi are the only characters in the Dark Army to appear in almost every episode.
Community content is available under
CC-BY-SA
unless otherwise noted.